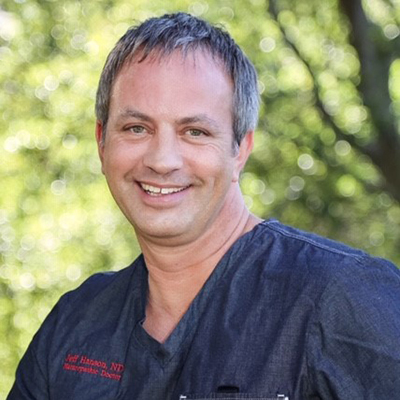 Embody Wellness
805 Wales Dr., Suite 2
Folsom, California 95630
Jeff Hanson, N.D. - Folsom California PRP Orthopedics Specialist
Sacramento PRP Orthopedics Specialist, Jeff Hanson, N.D., is a naturopathic doctor at Embody Wellness of Folsom California. Dr. Hanson is happy to offer Platelet Rich Plasma (PRP) to his local Sacramento patients. PRP is a process that enhances your body's natural healing ability. PRP is a great solution for athletes and active adults who experience chronic pain, often tendon injuries or arthritis. Dr. Jeff Hanson treats patients with sports injuries, arthritis, and issues with the spine, low back, shoulder, hip, knee, and elbow. Dr. Hanson combines PRP with ozone gas which super charges the PRP treatment.
Services Offered
B Vitamin Shots
Bioidentical Hormone Replacement Therapy
HCG Medical Weight Loss
Lifestyle Medicine And Nutritional Supplement Education
Prolozone & Prolotherapy
PRP Injection Therapy
Testosterone Replacement Therapy
Background and Experience
Dr. Hanson's clinical experience with PRP and Regenerative Injection therapies began in 2007 during residency at The Center for Natural and Integrative Medicine in Orlando, Florida. After discovering the healing benefits of these injection therapies he decided to make it his specialty.In 2010, he joined the practice of Dr. Frank Shallenberger, MD at The Nevada Center in Carson City to get first hand training with PRP and other regenerative injection therapies and still works one day a week with Dr. Schallenberger but has since opened his own practices in Folsom and South Lake Tahoe, CA. Dr. Hanson also teaches and trains other doctors with injection therapies at seminars held twice yearly in Reno, Nevada.The "Tahoe Natural Medical Center" is Dr. Hanson's own practice in South Lake Tahoe. He has been an associate doctor with Dr. Frank Shallenberger MD at The Nevada Center in Carson City for seven years. Dr. Shallenberger is well known throughout the United States for his pioneering work using ozone gas (Prolozone) for treating chronic joint pains and acute injuries. This is what brought Dr. Hanson to this region from the Pacific Northwest, to learn this therapy and acquire the skill to use it effectively.