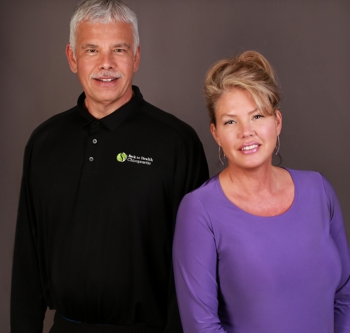 Back to Health
5005 E Stop 11 Road
Indianapolis, Indiana 46237
Dr. Brian Green, DC and Dr. Christine Green DNP, FNP, NP-C, ABAAHP - Indianapolis Indiana PRP Doctors
Indianapolis Functional Medicine Specialist Dr. Brian Green, DC specializes in treating patients all of ages who may suffer from back and neck pain, headaches, joint pain, sport and auto injuries. His Post Doctorate education and training has been focused in the areas of: functional medicine, neurologic relief, whiplash injury, brain trauma and anti-aging medicine with emphasis on nutrition, and understanding the root cause(s) of many chronic conditions.
Indianapolis Bioidentical Hormone Specialist, Dr. Christine co-founded Back to Health is certified and specializes in family practice, PRP, hormone replacement therapy, compounding hormones, and many aesthetics procedures. She has post-graduate education in the areas of: advanced metabolic endocrinology, sexual wellness, menopause, functional medicine, and dermatology.
Doctor have used PRP, or Platelet Rich Plasma, for years for its ability use natural growth factors to help the body heal and regenerate tissues. PRP treatment is designed to deliver high concentration of endogenous (your own "home-grown") platelets and stem cells directly into the area of pain or discomfort stimulating tissue regeneration, and has provided very beneficial results for our patients.
Conditions Treated
Joint pain
Bone-on-bone regeneration of tissue
Bursitis
Osteoarthritis
Muscle tears and injuries
Tendon tears
Tendonitis
Regeneration of tissue
Pain management
Patient Success Stories
"Dr. Chris, and her professional, knowledgeable, office personnel, have restored my faith that there are indeed, caring and skilled individuals still in practice. I look forward to each appointment, knowing I will be greeted with kindness, and a genuine interest in my care. No visit is ever rushed, nor, my questions left unanswered. I highly recommend, "Back to Health" for a variety of Healthcare concerns."