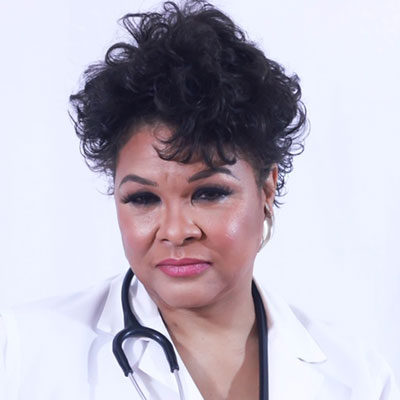 Body and Wellness Medical Spa
17603 W 10 Mile Road
Southfield, Michigan 48075
Sylmara Chatman, M.D. - Southfield Michigan PRP Doctor
Southfield Michigan PRP Doctor, Sylmara Chatman, M.D., is the founder of Body and Wellness Medical Spa in Southfield, Michigan. Dr. Chatman has been practicing medicine for more than 20 years and specializes in Functional Medicine with a focus on Platelet Rich Plasma Therapy. Platelet Rich Plasma Therapy is an exciting new treatment option that has been sweeping the anti-aging market and is used in many anti-aging treatments, including PRP for Orthopedics and sexual enhancement for both men and women. Prior to being used for aesthetics, Platelet Rich Plasma was primarily used to help patients improve chronic pain and heal from serious injuries. Now, more than ever before, physicians have noticed this therapy's potent ability to regenerate tissues to reverse or delay signs of aging and revitalize a youthful appearance. Dr. Sylmara Chatman has helped vast numbers of men and women obtain amazing results with Platelet Rich Plasma, while also enjoying improved aesthetic appearances.
Dr. Sylmara Chatman aspires to continue to reverse or reduce the effects of aging in her patients. By taking a Functional Medicine approach, Dr. Chatman's mission is to help identify and address the underlying cause of the medical problem, as opposed to simply treating the symptoms. She incorporates traditional medicine, education, mentoring and permanent weight control to customize a lifestyle program uniquely fit for her patients. Sylmara Chatman, M.D., is one of the first physicians in the country to offer this proven program of success and is answering the demand for better healthcare by reducing prescription medication through education, awareness and lifestyle change.
Michigan PRP Doctor, Sylmara Chatman, M.D., has helped countless patients in Southfield and the Oakland County area achieve amazing treatment results at her clinic, Body and Wellness Medical Spa, in Southfield, Michigan.
Platelet Rich Plasma Services Offered at Body and Wellness Medical Spa
PRP Facial with Micro Needling
PRP Injections for Fine Lines and Wrinkles
Vampire Facials
PRP Facelifts
PRP Injections for Facial Asymmetry
PRP Injections for Erectile Dysfunction (P shot)
PRP Injections for Female Sexual Dysfunction (O shot)
Background and Experience
Southfield Michigan PRP Doctor, Sylmara Chatman, M.D., has been practicing medicine in southeast, Michigan for more than 20 years. She received her medical degree from Michigan State University and specialized in Family Medicine. In 1995 she was the first African-American female to join the medical staff at St. John Hospital and Medical Center's Department of Family Medicine. She developed and implemented their first School Based health Center Program which opened in September of 1995.
Dr. Chatman's work on the treatment of childhood asthma, in the school based health center setting can be read in the Journal of the American Academy of Asthma, Allergy and Clinical Immunology, (2003 and 2004). She wrote the "Ask The Doctor Column" for the Michigan Chronicle Newspaper for over nine years. She was given the National Congressional Leadership Award in Washington DC in 2003, Detroit Urban League Community Service Award in 1998, The Michigan State Senate Physician of the Year Award in 1997 and is listed in the Library of Congress. Dr. Chatman was also inducted into "The Leading Physicians of the World", in 2018, Trademark Woman of Distinction, Honors Edition 2018 and Healthcare Innovations Award at the Harvard Club of Business in 2018. She also made numerous television appearances as a medical expert for Channels 2 and 4, in which she discussed current health topics and relevant preventative health and wellness recommendations.